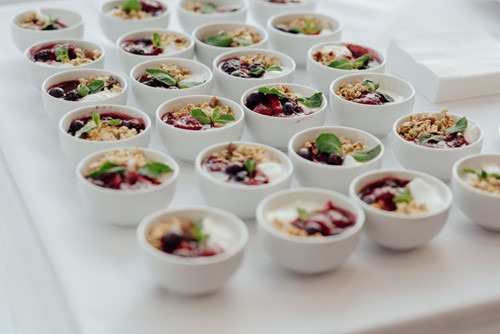 Buffets are a convenient way to serve a group of people. They can be especially helpful when there are many food items and a lot of guests. Even for small gatherings, a serve-yourself buffet is usually the easiest setup. Unfortunately, health concerns make buffet-style food service risky. Sharing the same serving utensils and congregating in a small space to get food makes for a greater risk of passing around germs or contaminants. Luckily, there are some simple things you can do when planning your buffet to make it healthy and safe without losing the convenience.
Individually Wrap When Possible
When serving dishes that consist of small pieces, try to wrap or package portions individually. For example, you could wrap up individual slices of roasted meats, entire mini-sandwiches or sliders or individual dessert items. Wrapping or packaging small portions of food rather than leaving the entire dish open means reducing the amount of touch points at your buffet and keeps everybody healthier.
Pass Out Serving Utensils
Rather than designate a single serving spoon or utensil per dish, give every guest their own. Every person will use their own individual serving utensils to access the food, making it so the same tools don't touch the food more than once. If people want to go back for seconds, have them use a fresh spoon. You can even make a fun party favor out of it by including utensils in a gift package for each guest.
Spread Out
Many buffet tables are crowded with a dozen different food items. While these buffets look exciting and bountiful, they leave more opportunity for cross-contamination and spreading of germs. If there is more room between each dish, guests will naturally make more space between them. Instead of cramming a single table full of every dish, try spreading out the fare over multiple tables to create more space.
Clean & Dispose Responsibly
A key to a safe and healthy party is safe and healthy cleanup. Encourage guests to throw their own disposable supplies away immediately after finishing rather than leave them around for others to pick up. At the end of the event, gather trash and other items while wearing gloves. Any reusable dishes should go into the dishwasher or hand-washed immediately with antibacterial soap. Take the trash and recycling out of the home as soon as possible and disinfect all surfaces used by the gathering.
With the right precautions, you can have a successful and healthy buffet-style feast. Use these tips the next time you plan a food-based gathering and keep your friends and family safe.